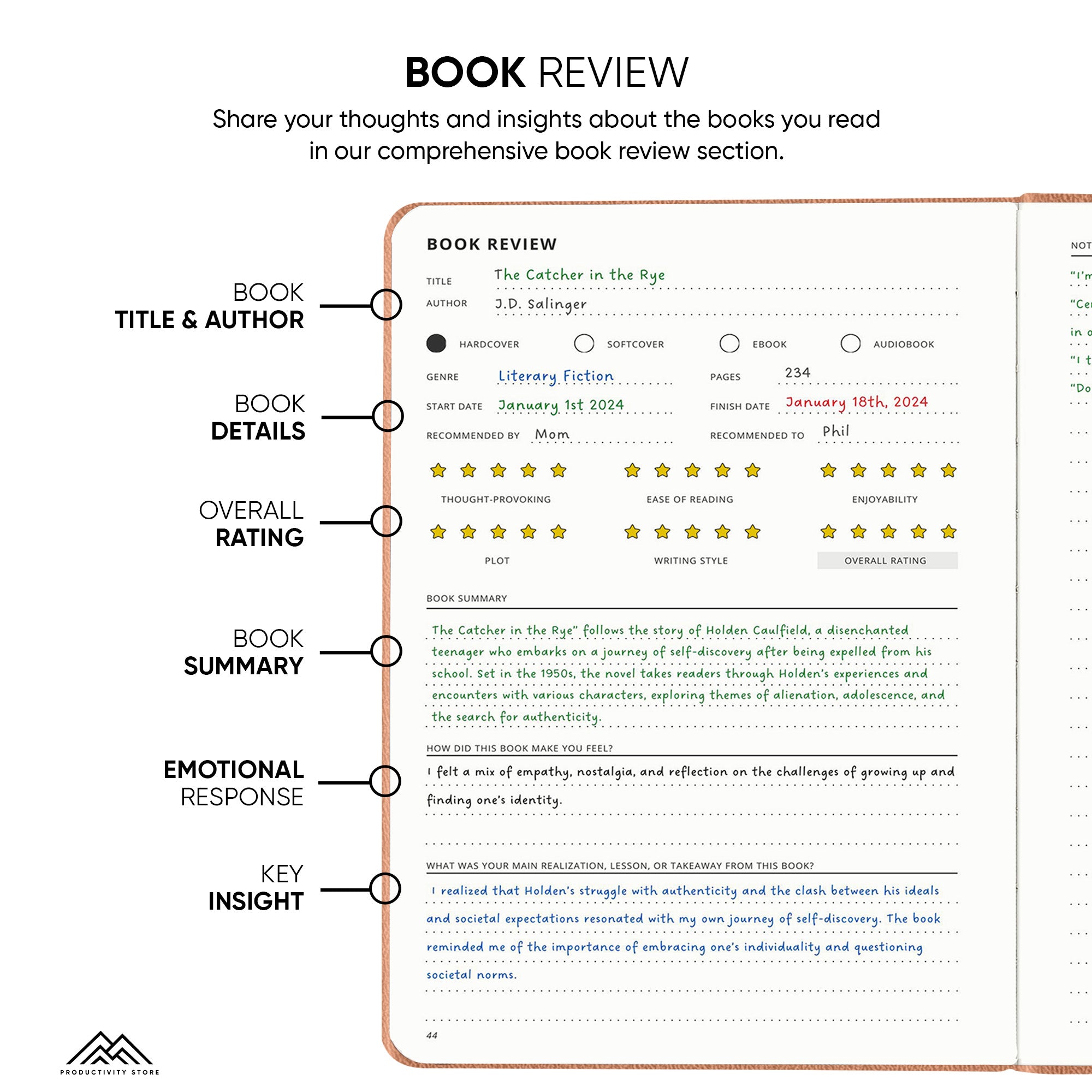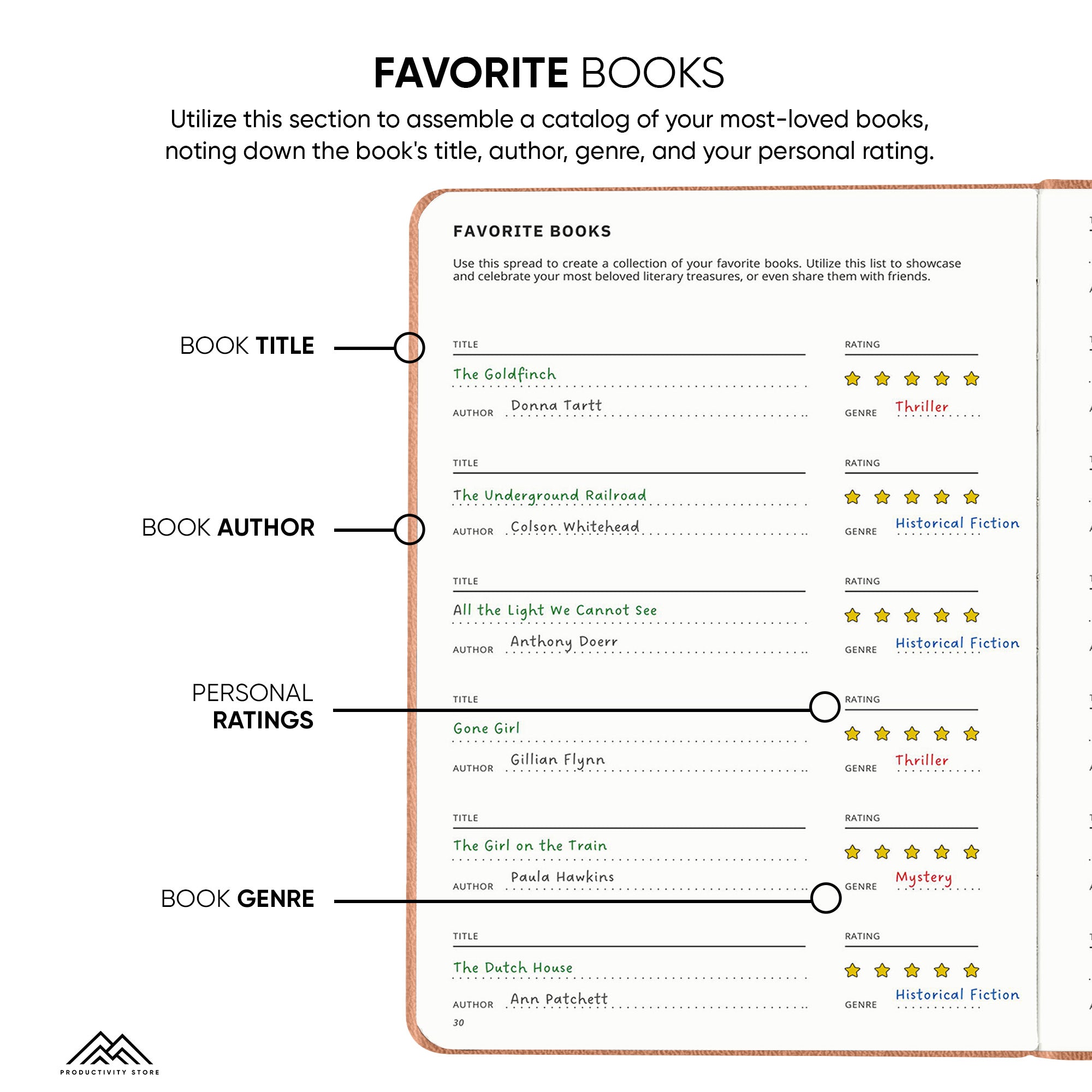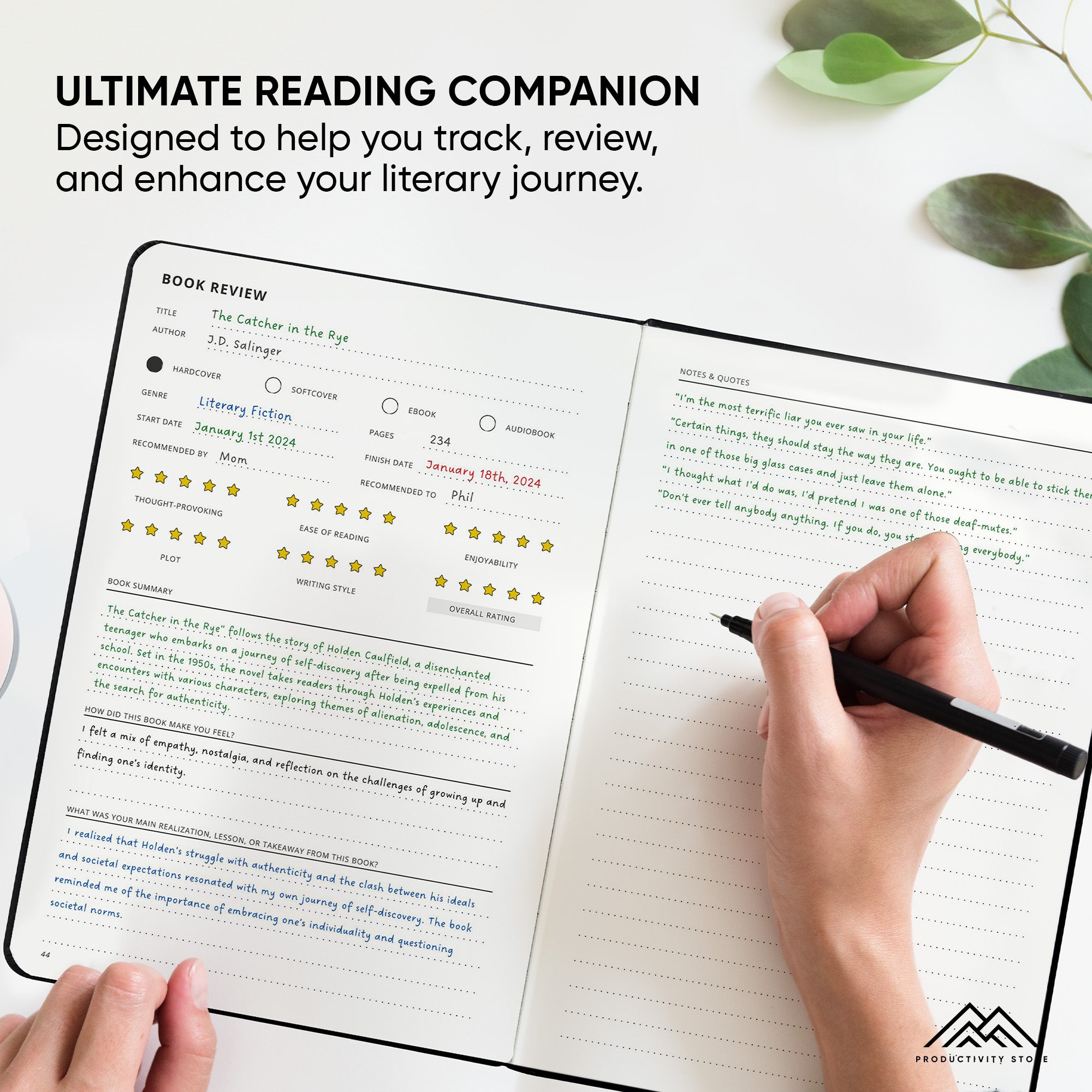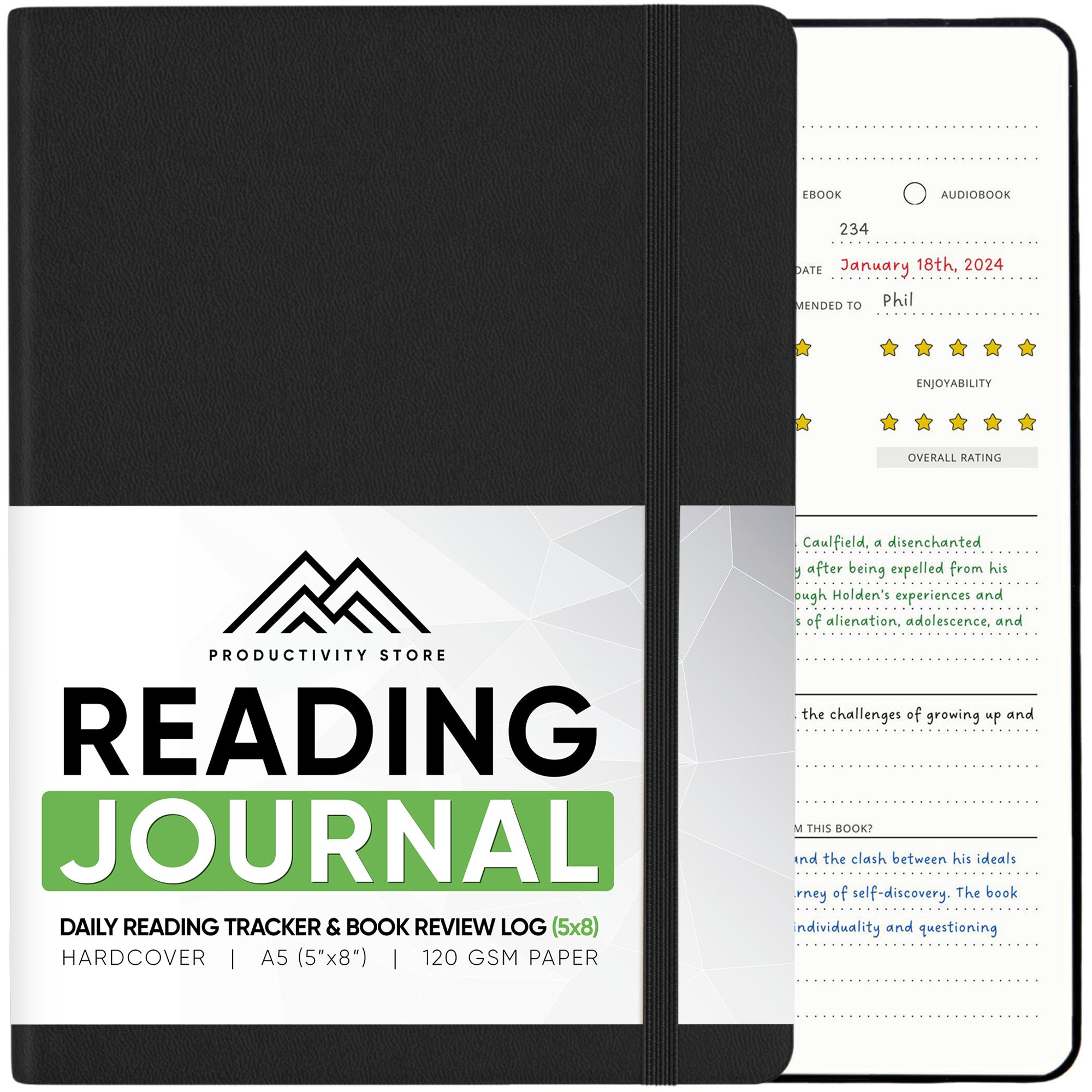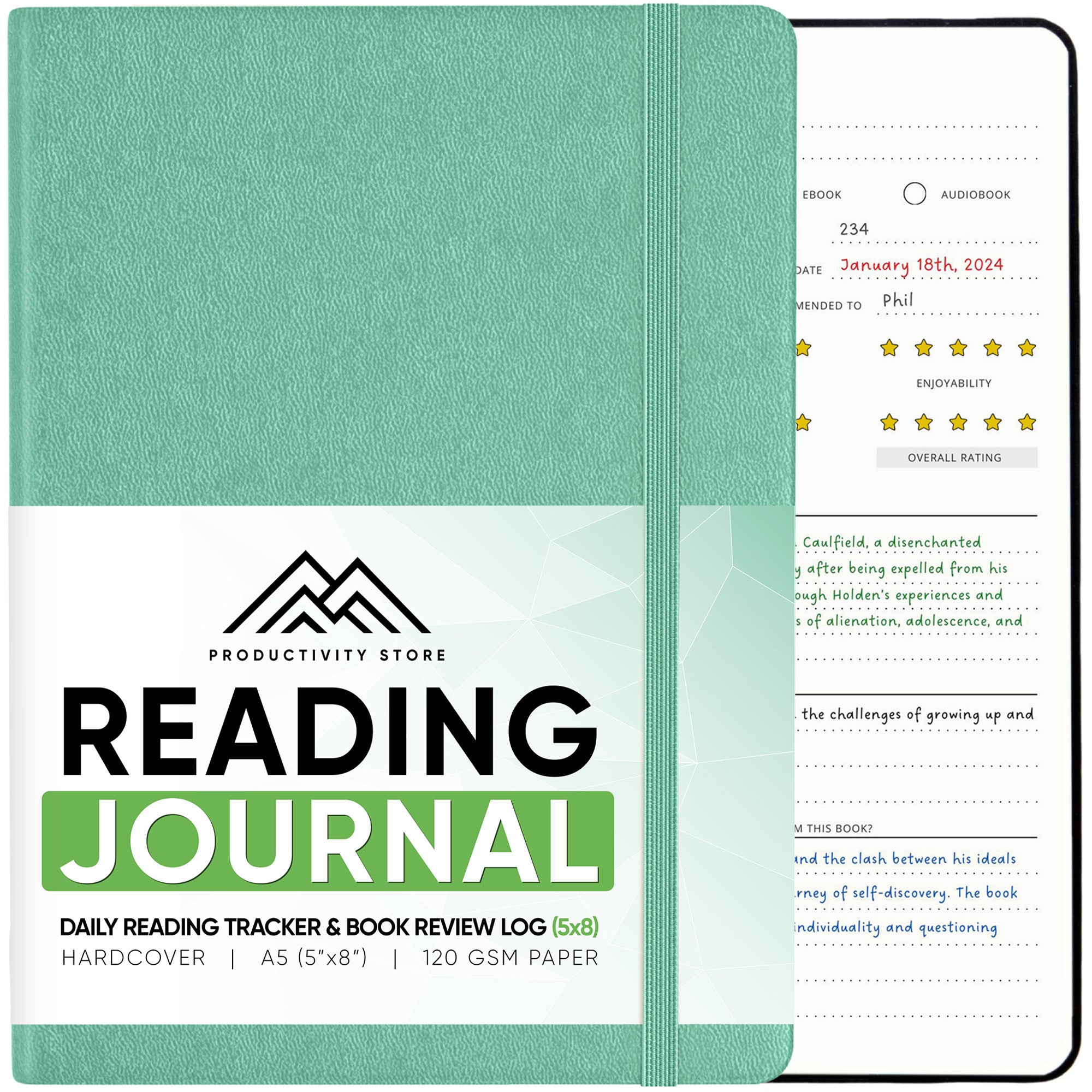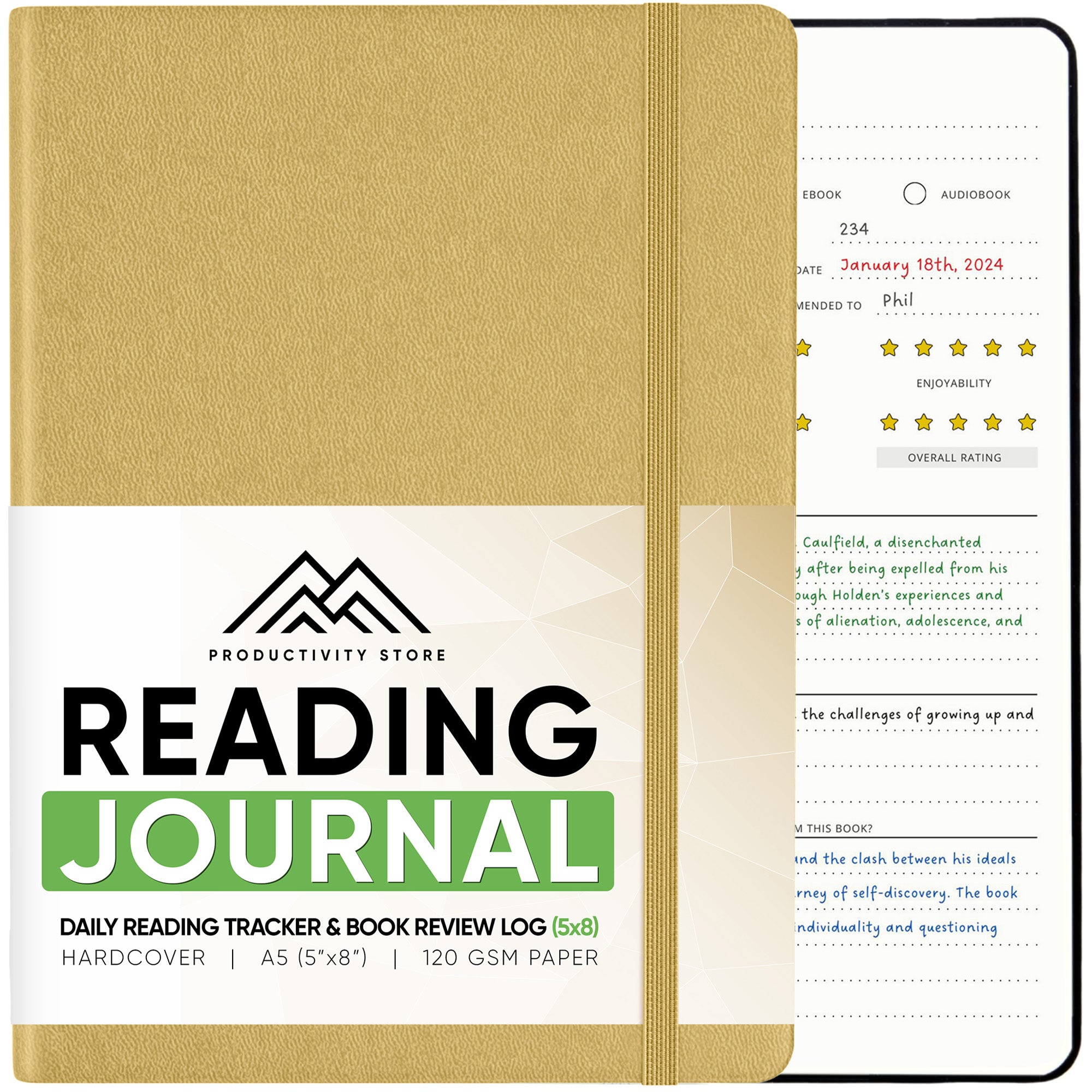 Reading Journal
Discover the perfect companion for your literary adventures with this reading journal. With dedicated sections for book summaries, reviews, and a personalized reading log, you can easily keep track of your literary journey. Elevate your reading experience and make every book unforgettable.
Free shipping on all US $30+ orders. We ship from our US facility within three business days.
Feel confident in your purchase with our 30 day money-back guarantee. No questions asked.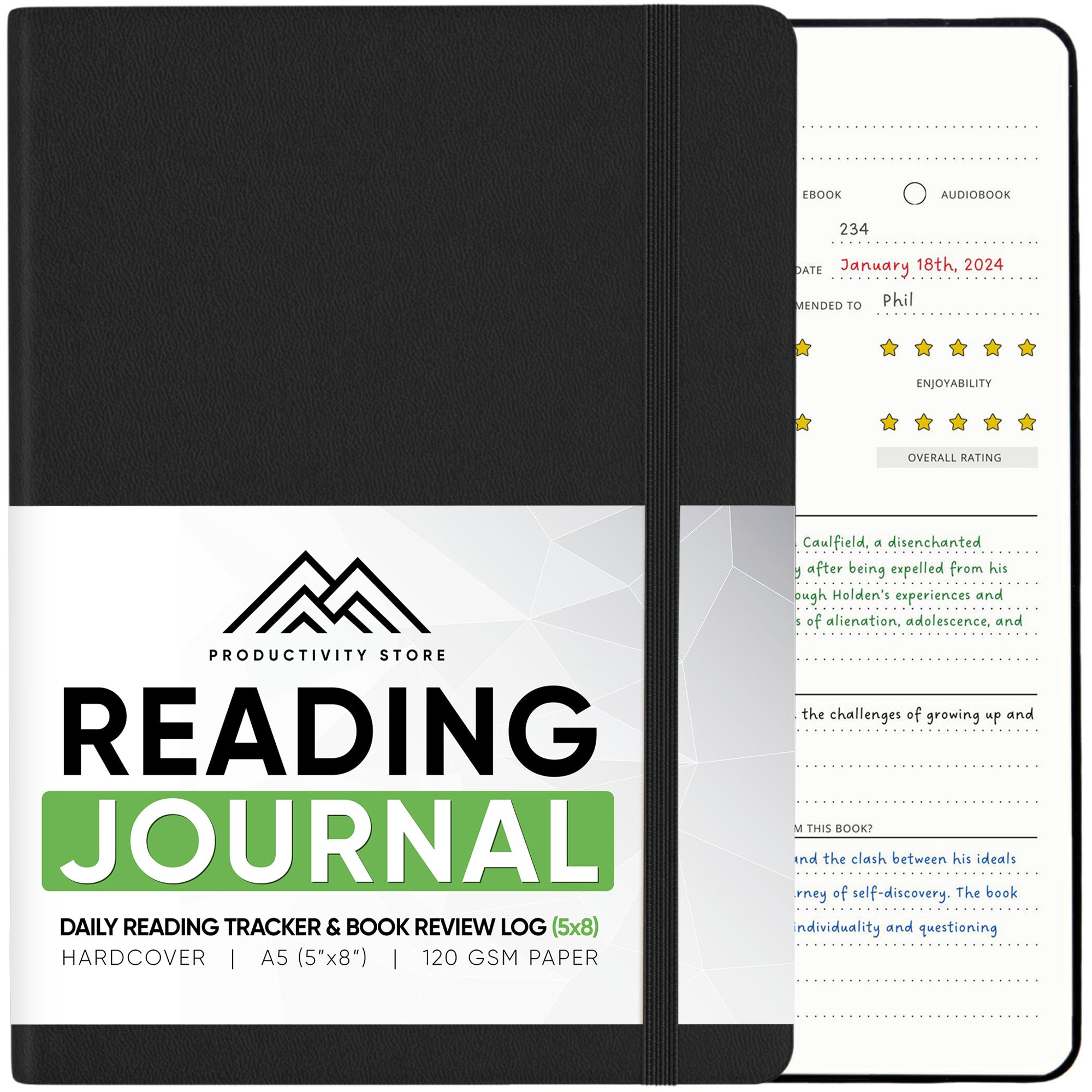 The Productivity Store Reading Journal
The Ultimate Reading Journal for Book Lovers
Keep track of all the books you want to read and even write detailed book reviews with this all-in-one reading journal.
Goal oriented progress tracking: Set reading goals and watch as you make progress each day.
Convenient and organized: With dedicated sections to keep track of books you've read, borrowed, lent, and more.
Detailed book review section: Share your thoughts and insights about the books you read in our comprehensive book review section.
Functionality
All-in-One Reading Journal
Paper Quality
260 pages of 120gsm Ivory, No Bleed High Quality Paper
How it Works
Discover the ultimate reading companion with our reading journal, designed to help you track, evaluate, and enhance your literary journey.
Set your own reading goals by including a specific number of books with start and finish date goals to easily keep track of your reading progress.
Easily organize your reading list by jotting down book titles and authors while checking off each one as you complete them.
Make the most of the Finished Book Index to document the number of pages, identify book titles and authors, and rate your reading experiences using a user-friendly five-star scale.
Utilize this section to assemble a catalog of your most-loved books, noting down the book's title, author, genre, and your personal rating.
Personal Reading Goals
Set your personal reading goals and challenge yourself to achieve them before you finish this journal.
Reading Tracker
Track your reading progress to create better habits.
Genre Challenge
Take on the challenge of expanding your literary horizons by exploring books from various genres.
Track Your Progress
Write down the start and finish dates to track how long it took you to finish a book.
Books To Read
Keep track of your next literary adventures with a space for the author, title, and a handy checklist for your upcoming reading list.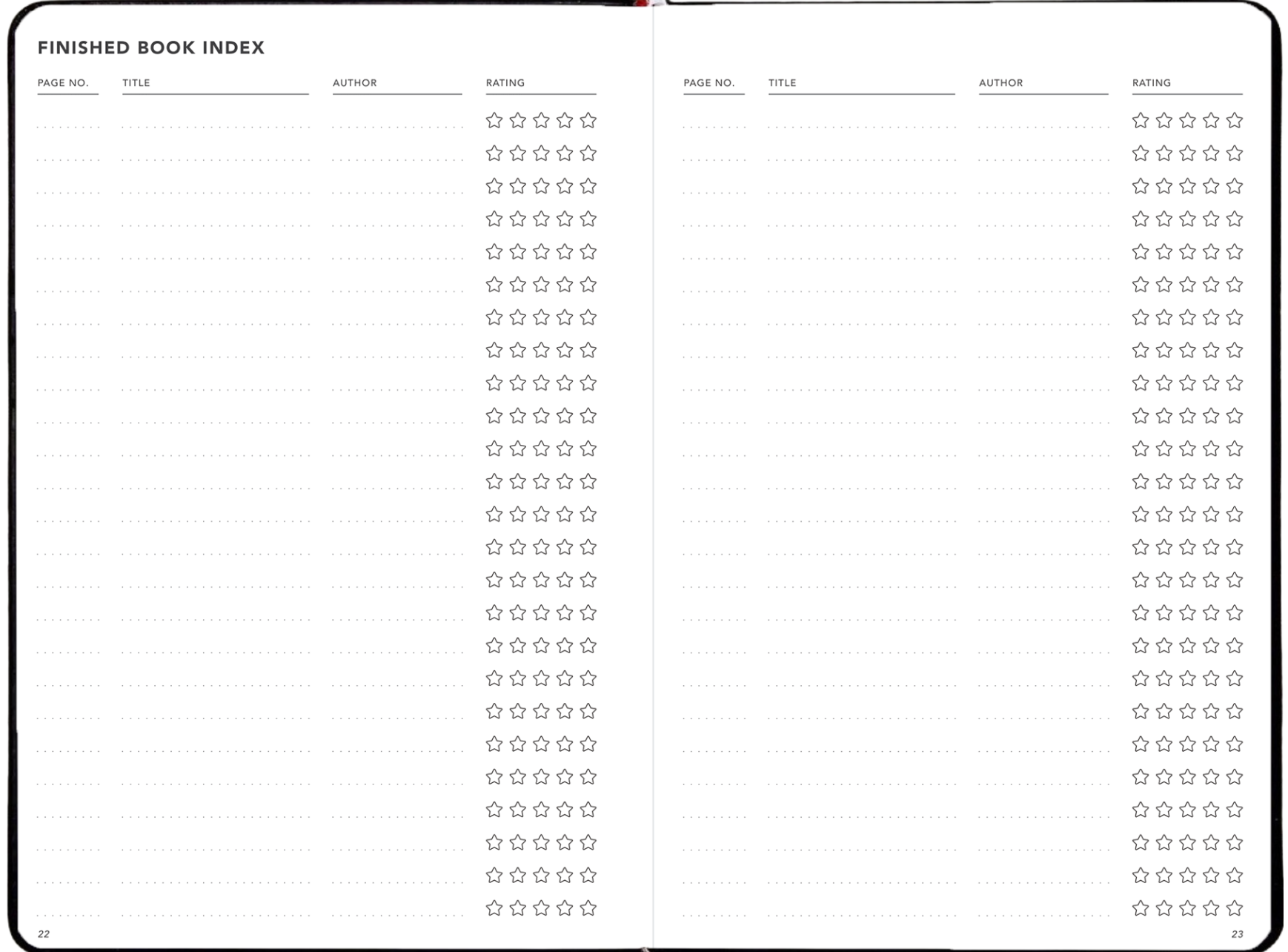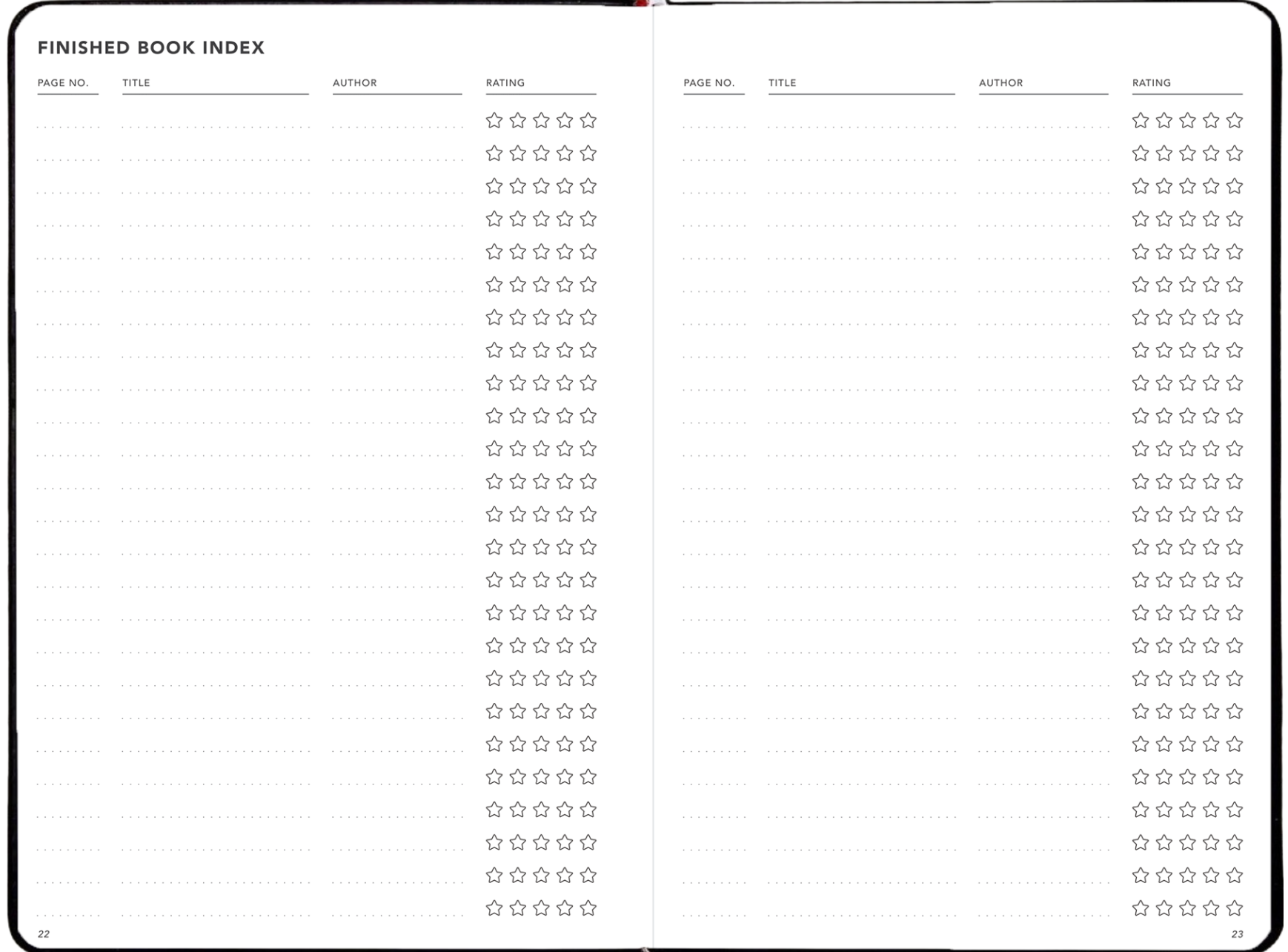 General Book Details
Write the book's basic information for easy reference.
Star Rating
Use the star rating to serve as a quick and visual way to capture how much you enjoyed a particular read and to quickly gauge your feelings, making it easier to revisit and recommend books in the future.
Favorites
Highlight and record the books that you consider to be your most beloved reads to showcase and revisit the literary gems that have made a lasting impact on you.
★★★★★
Trusted by 100,000 People Worldwide.
Experience true change with Productivity Store. Real stories, real results.
This product has no reviews yet.
Frequently Asked Questions
Is this planner right for me?

This Weekly Planner is the perfect planner for busy individuals who are looking to establish a well-rounded life of productivity, gratitude, and balance.
Why is this planner undated?

We want people to be able to start using our planner whenever, and not have to wait for the start of the year. Another great thing about an undated planner is that you'll never waste a page if you miss a day. With a normal, dated planner, those missed days are pages that are lost forever. With this Weekly Planner, you wouldn't have to waste a page of your daily planner.
How long does this planner last?

The Productivity Planner allows for 12 months of daily planning and journaling.
How will your planner improve my mental health?

Our planner includes daily gratitude prompts designed to increase happiness, improve relationships, and develop a positive mindset. In addition, our planner has a section for daily and weekly accomplishment reflection to remind you to celebrate your wins, no matter how big or small.
What are the different sections included in your planner?

The Weekly Planner is designed for daily, weekly, and monthly planning and it includes the following sections:

Daily Planner
Daily Task List
Daily Gratitude Prompts
Daily Accomplishment Reflection
Daily Productivity Score Tracking
Weekly Planner
Weekly Accomplishment Reflection
Weekly Habit Tracker
Weekly Inspiration Quotes
Monthly Planner
Monthly Calendar
Monthly Budget Tracker
Annual Goal Setting
Additional Space For Notes
What are the dimensions of this planner?

Our planner measures 8.6" by 6" by 1.5" inches.
How much does this planner weigh?

Our planner weighs 1.4 pounds.
What type of paper do you use? Is it no-bleed?

We made the Work / Life Productivity Planner with 120gsm no-bleed paper. We advise you to mark the last page of the planner with your writing instrument before you start using it. Our customers have told us they have no problem using pencils, pens, and thin sharpies without bleed.
What shipping carriers do you use?

We currently offer free USPS media mail shipping to all US customers. We also offer faster paid shipping options through USPS and UPS.
How long will it take for my planner to arrive?

Our free shipping option via USPS takes between 2-8 days. The USPS Priority Mail is the fastest option we have on offer and typically takes up to 3 days to deliver in the lower-48 states.
Do you sell outside the U.S. or ship internationally?

We currently only ship domestically in the United States.
What if I am not happy with the product?

We have designed this product to be the best daily planner and gratitude journal on the market. We love this product and we're confident you will love it too. If, for whatever reason, you are not satisfied with your purchase, just let us know. We will make it right.
What is your return policy?

We offer free and easy returns. The product should not be used and should be returned back in its original packaging. Learn more about our return policy here.