Regular price
Sale price
$30.00
Unit price
per
Sale
Sold out
All-in-one gratitude, positivity, manifestation and self-care journal.
✅The Best Daily Journal Ever: This daily journal with prompts is a gratitude journal, affirmation journal, positivity journal, manifestation journal, self-care journal, habit tracker and journal planner all-in-one. The journal includes a daily inspirational quote and space for your affirmations, daily gratitude, and extra space for daily journaling.

✅Daily Journal with Daily Quotes and Space for Daily Reflection, Manifestation & Self-Assessment: Start each day by considering your daily goals and things you are grateful for. In the evening, fill out the reflection page to wind down and get motivated for the next day. Reflect on the daily quote and write down your dreams, thoughts, and plans to manifest them into reality. A simple, yet effective way to invite positivity, gratitude, and well-being into your life.

✅ Daily Gratitude List, Affirmation Prompts & Mood Tracker: Boost your happiness and experience improved mental wellness with daily gratitude and affirmation prompts. The daily journal includes everything you need to activate the law of attraction in your life.

✅ List All the Good Things That Happen Each Day & Prepare for the Next Day: Use our daily journal to celebrate your biggest wins and things you are most excited about the next day.

✅ Undated 6-Month Daily Journal, Made from Premium Materials: Undated 6-month gratitude journal so you can start and stop at your own schedule. This journal is perfect for both men and women. It features premium 120 GSM paper and measures 5 x 8 inches.

View full details
"This is the most complete and effective gratitude journal I've ever found. I promote it to all my friends, family & coworkers."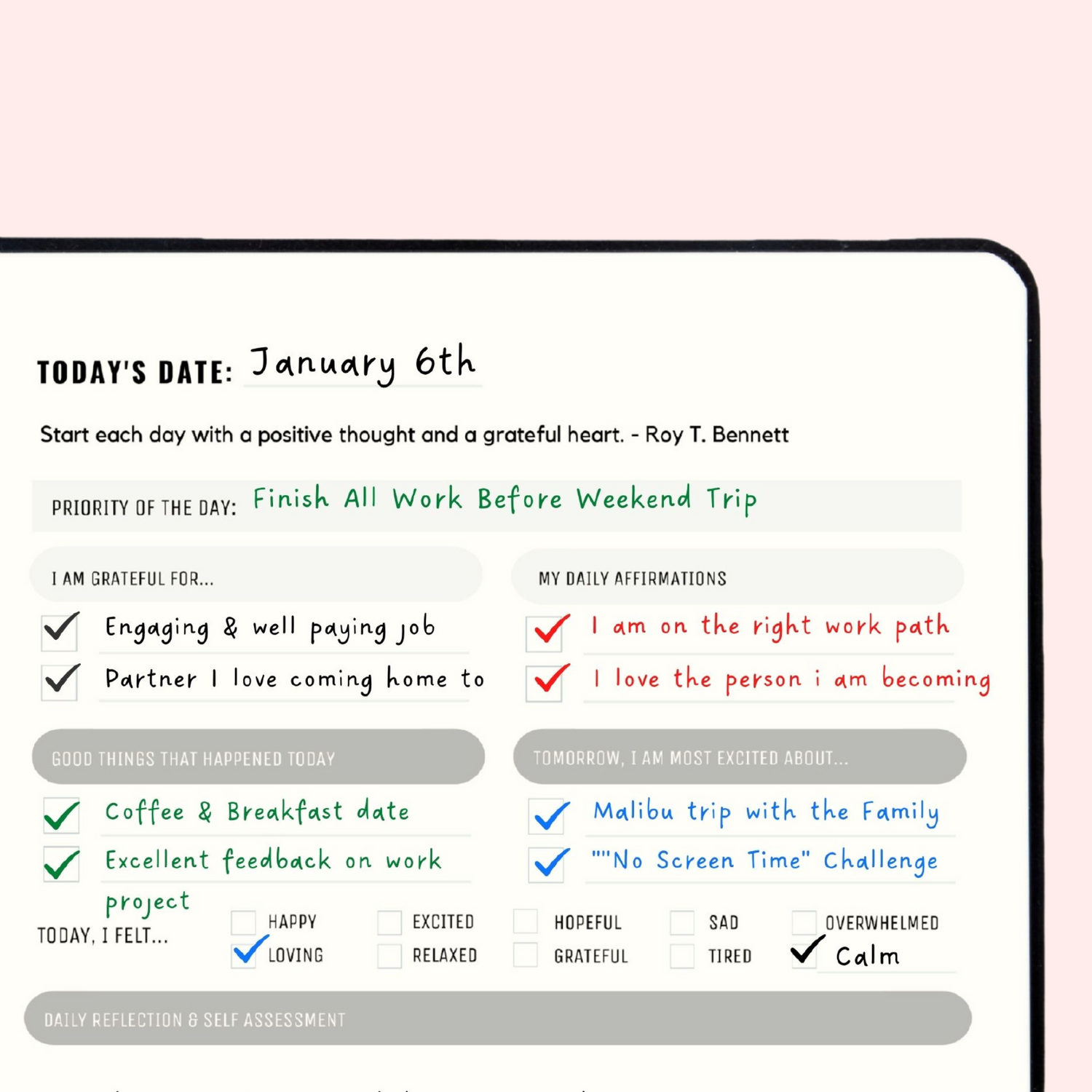 MORNING ROUTINE
Start each morning by prioritizing your daily goals and reflect on things you are grateful for. 
EVENING REFLECTION
Reflect on the best things that happen each day and then plan for the next day.
FREESTYLE JOURNALING
Unleash your creativity and embrace the freedom of freestyle journaling with our daily journal's innovative feature. Write, reflect, and express yourself limitlessly.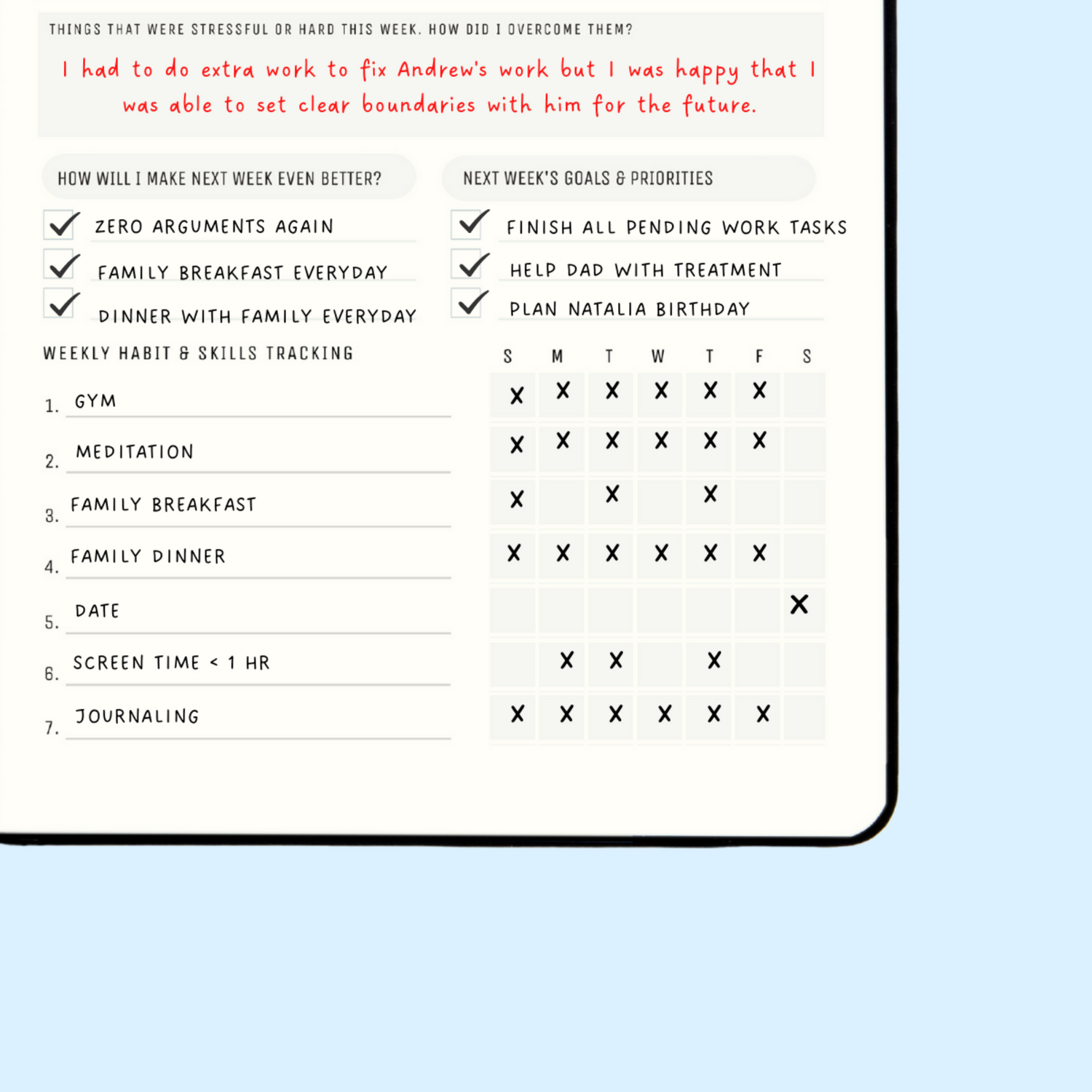 HABIT & MOOD TRACKER
Stay mindful of your daily routines and emotions, fostering personal growth and well-being, with our integrated habit and mood tracker.
Lovely journal
This journal is lovely. It's sturdy and appears well made. I think it will hold up well to regular use. Plenty of space for writing, with idea prompts and inspirational quotes.The paper is lovely quality, not only perfect for writing but also doodles and drawings if the mood strikes. Very nice, I like it!
Grateful for this awesome journal!
I've had other gratitude journals in the past, and while I loved the concept of them, there was so much excess stuff that took up the front pages that didn't apply to me, and I really wanted something simple. I've been sober for almost 18 months and I want to keep track of my daily gratitude and what's going on without a lot of frills and extra stuff that I don't need. This is an excellent way for me to track my daily feelings, as well as look back on each week and see what was going on. I also appreciate that it's undated so if I'm just not in a place where I want to write, I don't feel obligated to. This is the second item I've purchased from this company and I'm really a fan of the fact that the item you get is exactly what it's supposed to be - I don't need some complicated life planning system, I just want a way to track my gratitude and remember what I am grateful for when I'm having a bad day. The subtle elegance of this journal and the fact that it is exactly what I need is really great and I would definitely recommend this and any products from this company.
A good place to start
This is a very nice journal. Hard-backed. Quality paper. Each entry starts with a motivational quote to consider. Enough entries to cover a whole year. My one concern is that each entry is just one page - half a page once you fill in the blanks at the top of the page. It doesn't really give you room for real reflection; however, that may be a plus if you're new to journaling and/or don't have very much time. I think it's a good place to start setting goals and working through your way through them.
Great journal!!!
Super cute journal. Well made. Appears just as advertised. Def a great item to have if you like journaling. Would also be a great gift.
Excellent Journal!!!
Keeping a daily journal can be a powerful means of giving structure to onrushing events and experiences,. It can enable one to see patterns--welcome and unwelcome--in our activities and relationships in our lives and work.This is a wonderful journal. First, it's elegant. It's packaged beautifully, suitable as a gift for others or as an inspiration for oneself. It's bound well and can fit into a shelf with books, giving a greater sense of permanence than a ring-binder or other, spare option.It's set by days rather than a calendar, so one can start it at any time. It has weekly as well as daily entries, encouraging disciplined reflection. It also includes blank pages for spontaneous entries.Keeping a journal is a personal, even intimate activity. What works for one may not work for another. Indeed what words in one part of one's life may not work in another.That said, this is an excellent offering. First, it can be a suitable gift to get someone else started in the practice of keeping a journal. For a life transition--graduation, new job, etc--this could be a welcome addition.Second, the fact that keeping a journal is different for different people, at least if they're serious about it, means that no single journal template can satisfy everyone. I'm putting this to use, and am supplementing it with a simple, school loose-leaf ring binder. That's not because of any limitation of this lovely journal or the ring binder. It simply reflects how I can best work through my own work.In sum, I highly recommend this daily journal, suitable as a gift to anyone, including oneself.